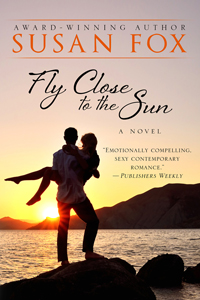 Fly Close to the Sun
The Story | Excerpt | Behind the Scenes | Recipes | Buy the Book
THE STORY
Can a logical, rational lawyer trust her instincts—and seize a unique moment of opportunity?
Lawyer Kieran Bridge's carefully planned life has unraveled. Distraught, she travels to Crete—the island she and her deceased father had always been drawn to—in search of the key to her future. She finds far more than she'd bargained for: a country that awakens her senses and emotions, and a man who challenges her as she's never been challenged before.
She feels an inexplicable connection to Dr. Stefanos Dimitrakis, a fugitive accused of murdering his uncle. When Stefanos insists he's innocent, Kieran's instincts tell her to believe him—but in the past her judgment has failed her. How can she now believe in a bond that defies reason?
This book is set in 1998, on Crete. It has the feel of a Mary Stewart romantic suspense novel—but sexier!