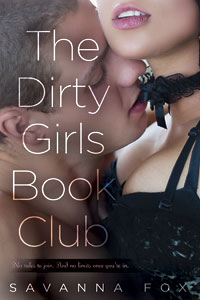 Dirty Girls Book Club
The Story | Excerpt | Praise | Behind the Scenes | Discussion Guide (PDF) | Recipes | Foreign Editions | Buy the Book
THE STORY
Don't you wish your book club read sexy books?
When Georgia Malone's book club makes their first erotic selection, The Sexual Education of Lady Emma Whitehead, the marketing executive is surprised to find herself identifying with the main character. Like Emma, Georgia is a widow who has never truly experienced the joys of sex.
When she meets the spokesman for her newest campaign, Georgia's long-buried libido is awakened. Hockey star Woody Hanrahan is supremely masculine, with rough edges and cocky charm—exactly the sort of man she usually avoids. But while her mind says stay away, Georgia's body tells her to give in.
As the book club explores the tantalizing extremes of fiction, Georgia experiences first hand, and for the first time, the real pleasures of the flesh, and fulfills the desires that—chapter by chapter—are getting delightfully dirty. Woody is hers to command in a hundred deliciously wicked ways, but when it comes to writing her own happy ending, this dirty girl doesn't just need his body—she wants his heart.
This is the first book in a series, and the first book written by Savanna Fox, the new pen name for the award-winning author Susan Lyons/Susan Fox.
The Dirty Girls Book Club Series
1. The Dirty Girls Book Club (Georgia's story; club reads historical erotica)
2. Dare to be Dirty (Kim's story; club reads cowboy erotica)
3. Bound to be Dirty (Lily's story; club reads BDSM)