News Flash x 2!
Love Somebody Like You is a finalist for a Romance Writers of America's® prestigious RITA® award for long contemporary romance!
We've added information pages for Ring of Fire, the 7th Caribou Crossing Romance under my Susan Fox pen name.
Sexy romance that's passionate, heartwarming, and fun!
May 15, 2016
I can't believe how quickly this year is passing! It's an early spring here in the Pacific Northwest, with all the flowers blooming a couple of weeks ahead of time. We've even had a few days that feel like July. I'm loving it!
This month I am looking forward to attending the Word on the Lake Writers Festival, May 20-22 in scenic Salmon Arm, BC, where I'll be a speaker and also doing blue pencil critiques. I haven't seen that part of the province in ages and will be driving there, taking my camera and hoping for good weather.
I'm also anticipating the release of Ring of Fire, the seventh Caribou Crossing Romance (pen name: Susan Fox) at the end of May. It'll be in print and e-book format—and hopefully the audiobook edition should come along in the near future. I'll have some guest blogs happening early in June and will post links on the Events page when I get them—and I'll also post them on my Facebook page.
The first Blue Moon Harbor book, Fly Away with Me, is 99% done. I've set it aside for a few weeks and then will print it out and do a final read-through before submitting it. I'm just getting started on the second title, and also working on a proposal for two more books in the series.
I've not only been writing, but reading a lot. I decided that I'd like to read all the other titles that finaled in the long contemporary romance category of the RITA contest. I highly recommend every one! I'm honored to be in their company. Here's a list of all the finalists in all categories.
And, last but not least, congratulations to this month's opinion poll contest winner. Amanda P from Burnaby, BC, receives an autographed copy of her choice of my books, plus a blue poppy magnetized notepad from The Butchart Gardens. A new contest is running and I'm asking about favorite holiday venues.
Happy reading! And happy last month of spring.
Susan
Events
Check out the Events page for more info about Susan's activities, and photos from past events.
Having trouble finding my books?
If you can't find my books in your "bricks and mortar" store, don't forget, you can order online from a variety of sources. I've included purchase links for several stores, including Independent Booksellers. If a new book hasn't been released yet, you can pre-order so it will be delivered immediately on release.
Opinion Contest
Every month I run an opinion poll contest. Answer this monthís question and your name will be entered for the chance to win a special prize. Check out the details on the Contest page.

Newsletter, give-aways and discussion questions
Sign up for my free monthly newsletter The Champagne News on the Contact page.
If you'd like a bookplate and/or bookmark for any of my books, fill out the contact form on the Contact page and I'll be happy to send them along.
Promotional items for bookstores, conferences, writing groups, book clubs and libraries are also available (flyers, bookmarks, autographed cover flats, bookplates).
Discussion (or personal reflection) guides are available in downloadable format for all my books. Check the Discussion Guide page for each book.
New Releases!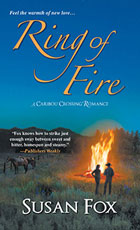 "Fox...proves again that she knows what women want in a contemporary romance." (Publishers Weekly)
Title 7 in the Caribou Crossing Romances series
Fire chief Lark Cantrell firmly believes that she, her mom, and her ten-year-old son Jayden are the perfect family. Men, like her father and her ex-husband, canít be relied on—at least not for more than an occasional hookup. Major Eric Weaver has a single mission in life: to overcome his leg amputation and his PTSD and return to active service. As an army brat, heís convinced that a career soldier canít successfully have a family life. But when fate brings Eric and Lark together not once but twice, the cynical fire chief and the scarred soldier may just have to accept the writing on the wall: a happily-ever-after for everyone concerned.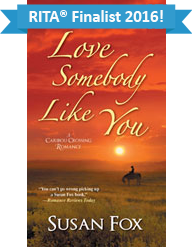 Title 6 in the Caribou Crossing Romances series
When Ben Traynor, a sexy cowboy from Sally Ryland's past, turns up at her Western riding school at the behest of her estranged family, the young widow must face the demons from her abusive marriage in order to heal and to not only reconnect with her past but move ahead to a bright new future.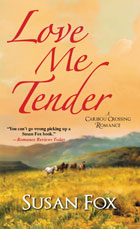 Title 5 in the Caribou Crossing Romances series.
Inn-owner Dave Cousins is known as the nicest—and loneliest—guy in town. Dare he risk his damaged heart again, on a free-spirited drifter? Like the wild goose tattooed on her shoulder, Cassidy Esperanza goes wherever the wind takes her, yet she has to admit there's something seductive about Caribou Crossing—and especially Dave. But when she faces a life-changing medical diagnosis, her first instinct is to take flight once more. Is Dave strong enough to help them both face their fears and believe that sometimes love truly can last a lifetime?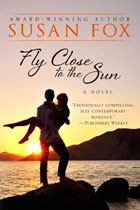 Lawyer Kieran Bridge's carefully planned life has unraveled. Distraught, she travels to Crete—the island she and her deceased father had always been drawn to—in search of the key to her future. She finds far more than she'd bargained for: a country that awakens her senses and emotions, and a man who challenges her as she's never been challenged before. She feels an inexplicable connection to Dr. Stefanos Dimitrakis, a fugitive accused of murdering his uncle. When Stefanos insists he's innocent, Kieran's instincts tell her to believe him—but in the past her judgment has failed her. How can she now believe in a bond that defies reason?