Sexy romance that's passionate, heartwarming, and fun!
May 1, 2013
Happy May, and whew! I finished the third book in the Dirty Girls Book Club series and sent it in to Berkley. The title, Bound to be Dirty, appears to be "official" and the book is scheduled for February 2014.
And now . . . I have a proposal to write, critiquing to do, promo to prepare, a workshop to put together, and I need to get organized for the RomCon Convention in June. I'm not entirely sure what writing project I'm going to focus on next. It's been a long time since I've been in that position and it feels pretty liberating!
I received ARCs for my August release from Kensington Zebra, Home on the Range, and will be getting those out to reviewers and book clubs this month. Don't the ARCs look great?
Also, the Italian editions for the 3rd and 4th "Sex 4 The City" books have now been published. (These are Touch Me and She's on Top in what I called the Awesome Foursome series.) Check out these covers.
Congratulations to my April contest winner, Vickie M from MS, who won one of my books plus a necklace and earrings.
Susan

Events
Check out the Events page for more info about Susan's activities, and photos from past events.
Having trouble finding my books?
If you can't find my books in your "bricks and mortar" store, don't forget, you can order online from a variety of sources. I've included purchase links for several stores, including Independent Booksellers. If a new book hasn't been released yet, you can pre-order so it will be delivered immediately on release.
Opinion Contest
Every month I run an opinion poll contest. Answer this month's question and your name will be entered for the chance to win a special prize. Check out the details on the Contest page.
Newsletter, give-aways and discussion questions
Sign up for my monthly newsletter on the Contact page.
If you'd like a bookplate and/or bookmark for any of my books, fill out the contact form on the Contact page and I'll be happy to send them along.
Promotional items for bookstores, conferences, writing groups, book clubs and libraries are also available (flyers, bookmarks, autographed cover flats, bookplates).
Discussion (or personal reflection) guides are available in downloadable format for all my books. Check the Discussion Guide page for each book.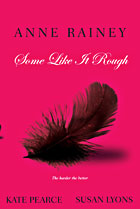 New Releases!
This is a new edition of a book published three years ago. For details, click here. It contains novellas by Anne Rainey, Kate Pearce, and me. In mine, titled 'Private Eyes," straight-laced Haley Croft goes undercover as an exotic dancer and discovers the thrill of strutting her stuff. And when she catches sexy PI Ry Montana checking out her moves, she can't wait to give him his own private show!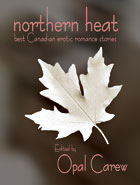 Long before the success of Fifty Shades of Grey by E.L. James, Canadian women were writing erotic romance stories that are brazen, seductive, and sexually liberating. This collection of stories will leave you yearning for more…and dispel once and for all the myth that Canadians are as frigid as the northern climate.
Includes stories by Savanna Fox as well as Opal Carew, Kayla Perrin, Sharon Page, Bonnie Edwards, Kate St. James, Sasha White, Anara Bella, Leah Braemel, Christine d'Abo, Cathryn Fox, and Jan Springer.
When a leather-jacketed biker rides down the avenue of pink flowering trees, Maura knows there's trouble, right here in Cherry Lane…
Maura Mahoney's quiet routine as accountant and acting manager at Cherry Lane retirement community is turned upside down when Jesse Blue, a bad boy on a Harley, roars into her life. He's been sentenced to do community service at Cherry Lane. Maura, protective of the seniors, puts him to work in the garden—outside her office window, where she can keep an eye on him.
It's an instant attraction of opposites. Though each believes the other is way out of their league, they can't prevent the increasingly steamy fantasies that obsess them. When those fantasies turn to reality, will it shatter their tenuous relationship? Or will they discover that in fact they're not as different as they thought—and they can surmount the barriers between them and find a deep, lasting love?
Don't you wish your book club read sexy books?
When Georgia Malone's book club makes their first erotic selection, The Sexual Education of Lady Emma Whitehead, the marketing executive is surprised to find herself identifying with the main character. Like Emma, Georgia is a widow who has never truly experienced the joys of sex.
When she meets the spokesman for her newest campaign, Georgia's long-buried libido is awakened. Hockey star Woody Hanrahan is supremely masculine, with rough edges and cocky charm-exactly the sort of man she usually avoids. But while her mind says stay away, Georgia's body tells her to give in.
As the book club explores the tantalizing extremes of fiction, Georgia experiences first hand, and for the first time, the real pleasures of the flesh, and fulfills the desires that-chapter by chapter-are getting delightfully dirty. Woody is hers to command in a hundred deliciously wicked ways, but when it comes to writing her own happy ending, this dirty girl doesn't just need his body-she wants his heart.
This is the first book in a series, and the first book written by Savanna Fox, the new pen name for the award-winning author Susan Lyons/Susan Fox.
Prefer e-books?
All my titles are available in various electronic formats, from the usual sources.